Heating supply experience from Norway catches interest in Russia's Arctic
Could heating systems in Russia's High North phase out polluting and costly fuel oil? An outlook from Norway presented by Norsk Energi at Russia's Arctic Forum in Murmansk inspires a hope.
Norsk Energi has presented the Norwegian experience with de-carbonisation of the district heating systems at SevTEC conference Murmansk, 11-12 November 2019. This is Russia's leading Arctic Forum that forms energy agenda in Russia's High North. The Conference was arranged by the Murmansk regional government with support and cooperation from Bellona Foundation (Norway).
Murmansk, like most of other urban communities in Russia's High North have centralized heating supply, which is largely based fuel oil and coal. These fossil fuels become an increasingly expensive commodity. Without a robust transport system, the imported fossil fuel must be transported on long distances during a short summer period. Moreover, the harsh weather of the Arctic make their maintenance costly. Even properly-functioning heating systems are exposed to harmful emissions of carbon dioxide sulphur oxide black carbon.
Thankfully, even without significant biomass resources a Russia's High North, a range of technologies exist for the conversion to locally available renewable energy sources. Relevant experience is available in Norway, where the district heating is mostly free from the fossils. The presentation of Norsk Energi's Sergei Faschevsky caught attention of the audience for a reason - it attempted to outline how could district heating be both clean and competitive. It was prepared with the help of Trygve Mellvang Tomren-Berg, from the Norwegian District Heating Association.
The Norwegian district heating systems are largely based on waste heat recovery, biofuels and heat pumps. Fossil gas and oil serve only peak demand and reserve capacity. This is not yet a case at Russia's High North, as the price of clean energy is far from being competitive. During his presentation, Sergei has suggested a number of options fostering the flexibility of thermal energy systems. The reduction of temperature in heating networks, distinguishing between the base and peak load heating plants, accumulation of heating energy, not only reduce the energy costs and actually "open door" for the renewable energy sources, - explained Sergei Faschevsky.
Through a dialogue Russia's Arctic Forum, solutions to pressing environmental issues could be found. "This is a win-win situation, and in the end, it could lead to better environmental conditions, and thus a better quality of life for people."- concluded Oskar Njaa, Bellona's general manager for international affairs.
In 2019, Norsk Energi has developed two feasibility studies for energy supply conversion from fuel oil to biomass in the Republic Karelia and Vologda region.
Attendance at the conference in Murmansk became possible with the financial support by the Norwegian General Consulate in Murmansk.
Contact: Sergei Faschevsky
Sergei Faschevsky took a quick look over Pechenga Nickel metallurgical plant (Nickel) located about 30 km from Kirkenes.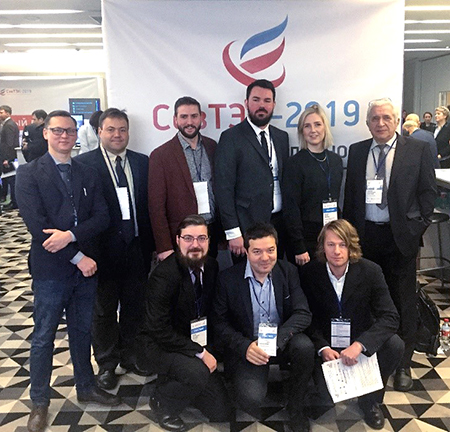 Bellona's Russian and Norwegian group at the SevTek 2019 conference in Murmansk. Sergei Faschevsky from Norsk Energi is second to the left. (photo by Bellona Russia).