Award for our contribution to energy efficiency of the Bulgarian public sector
In 2015, Norsk Energi decided to establish energy efficiency partnerships with municipalities in Bulgaria. The results have inspired the Bulgarian Ministry of Energy to honor Norsk Energi with an award for two years later.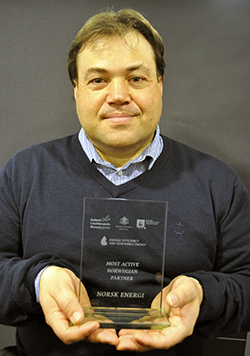 Sergei Faschevsky from Norsk Energi with the award from the Ministry of Energy of Bulgaria. The award winning case occurred on a programe "Promotion of Energy Efficiency and Renewable Energy Measures in Municipal and State Buildings and Local District Heating System in Bulgaria". The programme is co-financed by the Financial Mechanism of the European Economic Areas (EEA Grants).
Norsk Energi's first ever experience in Bulgaria turned into one of the most courageous and largest assignments for project implementation support in municipal sphere in Eastern Europe for the last 20 years. Norsk Energi has assisted to implementation of energy efficiency measures in several public buildings of four Bulgarian municipalities.
Most of the buildings are 30 years old or elder. For these buildings the necessary but costly renovation measures have been combined with rather simple and profitable improvements of the heating system. Common for these projects is that they all have included full value chain and support to all phases of implementation of energy efficiency measures.
Below please find a summary of implemented projects:

Burgas – boiler conversion from oil to biomass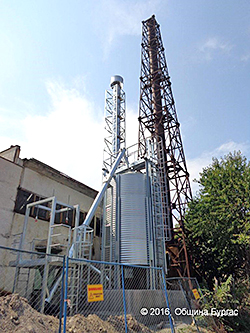 Burgas: Installation of 30 m3 biomass silo. It can accommodate 5 days fuel consumption at maximum capacity.Burgas municipality in partnership with Norsk Energi and the Technical University of Sofia has converted to biomass the boiler house serving the "Meden Rudnik" district. It included the replacement of two obsolete oil boilers and the auxiliary equipment with two modern fully automated woodchip boilers with total capacity of 1650 kW. Boiler house retrofit was combined with the measures reducing heat loads on the boiler house, namely upgrade of heating systems in 3 schools and a kindergarten in the service area of the boiler house
The minister of energy of Bulgaria has honored this joint project "as the one with the largest achieved share of renewable energy" at a final conference end of November 2017.
Dobrich: Better efficiency of heating system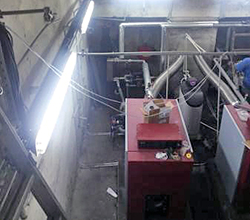 Dobrich: New gas fired boiler installed at the Kindergarten 10.The scope of the project included retrofit of secondary heating systems in two social buildings - Kindergarten №10 and the Municipal Social Complex. Obsolete gas and oil fired boilers and heating appliances were completely demolished in both of the buildings and new modern heating appliances were designed and supplied instead. To achieve extra gains in efficiency, the heating system was furnished with automatically regulated heating subcentrals and modern building management software.
Vratsa: Complete thermal modernization of several schools and kindergartens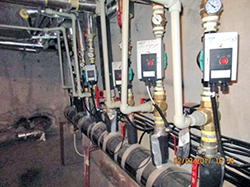 New heating subcentral at the secondary school ''Vasil Kanchov" in the process of commissioning.Municipality of Vratsa in cooperation with Norsk Energi has introduced a package of energy efficiency measures to five schools and kindergartens. Scope of the measures included insulation of buildings, installation of building level sub-centrals and retrofit of heating appliances, as well as refurbishment of ventilation systems. A new gas fired boiler at the secondary school ''Nikola Voyvodov" was connected to the residential area "Dabnika".
At the opening of the renovated schools and kindergartens, energy minister T. Petkova honored the project at Vratsa to be the most socially responsible project which has improved indoor climate for more than 3 000 pupils.
Gulyantsy: Design and installation of solar collectors and a heat pump in a local hospital
The process of installation of solar heaters at the roof of the hospitalThe hospital in Gulyantsi is the only health care centre in this small municipality. Renewable energy technologies should in no way compromise the security of energy supply. The project therefore presumed integration of two independent renewable energy sources for heat production. Ground water / water heat pump was constructed to meet winter energy demand. The heat pump was connected with high-efficient top-roof solar collectors which are purposed to cover summer hot water consumptions.
Effective savings
Sergei Faschevsky, coordinator of Norsk Energi's projects in Eastern Europe acknowledges that "energy costs of the buildings would be reduced by approximately 20 %. On our estimates these projects will also lead to reduction of approximately 2 230 tons CO2 per year. Obviously that the investments brought the cities closer to their sustainability ambitions and, not least, to the fulfillment of their obligations under the Covenant of Mayors".
Above expectations
The work that has been done by the Municipalities comprised all elements of engineering projects, from design engineering to construction supervision. To ensure successful implementation, each of the municipalities has formed project implementation units, which have performed the function of Employer and Project Manager. Norsk Energi's added value was independent support to the PIU at the Municipalities on specific technologies and best practices for construction management.
"Norsk Energi was proud to receive the awards. It showed that the expertise from Norway is well-received in Bulgaria. Being leading centre of energy expertise is not just about realizing successful projects; it is also about spreading knowledge and sharing engineering cultures, and about working together to everyone's benefit" – concludes Sergei Faschevsky.
Norsk Energi is looking forward to share its expertise to new partners from Bulgaria and on more sophisticated energy technologies, such as smart district heating and district cooling systems, industrial heat pumps, waste-to-heat and waste heat recovery.
Contact: Sergei Faschevsky