Systematic energy management brings results at Oslo's school buildings
In 2020, we saved 11.5 GWh. Until August this year, we have saved 8.8 GWh, and at the end of the year we hope to break the record from last year," says Rita Næssén Barkholm, senior energy and environmental adviser at Oslobygg KF.
Barkholm told that so far this year energy efficiency measures have been implemented at 57 schools in Oslo. On average, all these measures have reduced the overall energy consumption by as much as 16%.
Oslobygg KF is the city of Oslo's operator of public buildings. The enterprise is a merger of former facility management departments of elderly homes, educational buildings, culture- and sports complexes, as well as social houses. Oslobygg became one of Norway's largest building operators with approximately 2.7 million square meters of real estate. It includes kindergartens, schools, care homes, nursing homes, cultural buildings, sports facilities, fire stations and national facilities in the capital.
Norsk Energi has been collaborating with Oslobygg KF (formerly department of Educational buildings) on energy efficiency at Oslo schools for a long time. A few years ago, we have assisted to the establishing of energy management at the department of Educational buildings of Oslo. As the result of this cooperation, this department was certified according to ISO-50001. Now, the new, larger facility manager, Oslobygg KF is keen to extend this certification and working methodology to the rest of its buildings.
Over several years, Norsk Energi has been involved in a range of energy efficiency projects in public buildings of Oslo. At present, we are performing the initial energy auditing of eight school buildings.
Oslobygg has an ambition to realize the available potential for energy savings, and to properly document which investments have paid back on a long run, in an economic and environmental perspective. As being one of Norway's largest facility managers, Oslobygg KF is committed to become a champion in reducing climate footprint and managing energy use in a large mass of buildings.
Many of Oslo's school buildings have safety regulations that make an ordinary refurbishment challenging and sometimes impossible. Where building façade is protected, it would be impossible to retrofit and insulate them from the outer surface. It is therefore important to identify the so-called compensatory measures and to take appropriate actions on how these could be implemented. Such compensatory measures could for example be directed at energy supply and automation of heating systems. More and more advanced control of energy sub-centrals at Oslo's public buildings places extra requirements to their operators, as they would need stronger operational competence to turn the opportunities into actual energy savings.
This is where Norsk Energi comes into a loop. Several of our energy efficiency advisers are now working to identify which measures should be prioritized for the eight schools. The following schools shall be mapped:
Bekkelaget School,
Bolteløkka School,
Fight school,
Lambertseter School,
Lilleborg School,
Stovner Upper Secondary School,
Rustad School and
Sørkedalen School.
At two of the schools, Oslobygg plans to initiate a major rehabilitation work within a few years. At these buildings, it is therefore not expedient to consider large projects during the intermediary period. There, only minor measures, i.e., the ones that address the operating level and not the available equipment, are preferred. With regards to other six schools, it is desirable to locate major investments that will contribute to a major green shift of the buildings.
Contact: Andreas Boon-Grønseth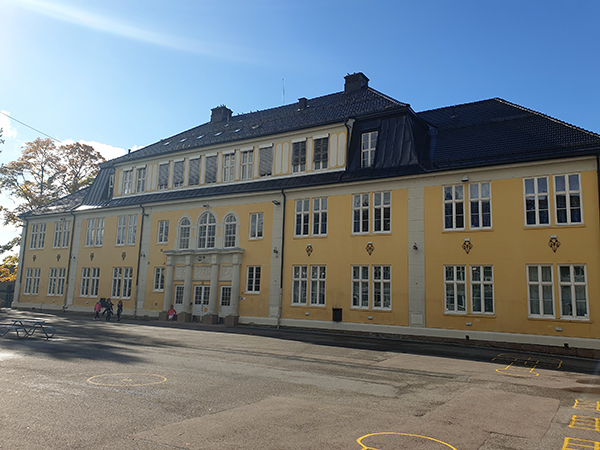 Bekkelaget skole is one of the schools where Norsk Energi is an energy efficiency consultant. Many school buildings have architectural value that means that one cannot easily change the appearance by, for example, an external after-insulation. However, much could still be done to save energy, perhaps especially on the energy supply and operation of heating systems. Photo: Norsk Energi/Øyvind Næss.