Norsk Energi notices its interest in EEA and Norway Grants Programme in Romania
Innovation Norway has launched first call on the Energy Programme for Romania under the EEA and Norway Grants. Norsk Energi is an attractive partner for interested Romanian organizations.
Innovation Norway has launched first call on the Energy Programme for Romania under the EEA and Norway Grants. The expected outcome of projects financed by the first call is Increased Renewable Energy production, namely:
Hydropower
Geothermal
Other Renewable Energy Sources (solar, wind, biomass)
Size of the projects should, according to the first call, be between 200.000 and 2.000.000 EURO. However, SMEs and NGOs are also invited to apply for smaller grants between 50.000 and 200.000 EURO.
Sergei Faschevsky, senior consultant from Norsk Energi took part at an Info Day and a Networking Event of the Energy Programme in Bucharest, 24 October 2018. The discussions and meeting convinced him that Norsk Energi may be an attractive partner for the interested Romanian organizations.
Energy Efficiency and Renewable energy production and distribution are Norsk Energi's core areas of expertise. We have extensive experience with power and thermal energy generation based on renewable energy technologies, including biomass and biogas, heat pumps solar thermal and photovoltaics, small hydropower and waste heat.
- On all these areas, we can assist the Romanian partners with the feasibility studies, technology selection, engineering and process design, project management, commissioning and training, underlines Sergei.
He also reminds that Norsk Energi has more than 20 years' experience in building local capacities of countries in Eastern Europe on energy, environment and climate change mitigation.
Norsk Energi's presentation could be found here. For further information or contacts, please revert to Sergei Faschevsky, .
Coming months, the Energy programme plans also to open calls for project proposals for energy efficiency, off-grid electrification, research and development, training and awareness. The target group for the Programme is enterprises in private sector, mainly SMEs. Partnerships are not mandatory, but Donor Partnership Projects are strongly encouraged. Further information on the Energy Programme for Romania under the EEA and Norway Grants could be obtained at the Programme's website
Kontakt: Sergei Faschevsky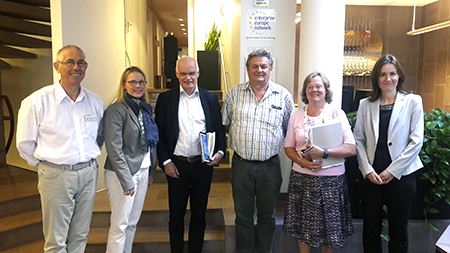 Bioenergy Delegation from Romania visiting Innovation Norway and Norsk Energi in August 2017. From left: Stine Torstensen, special advisor of Norsk Energi on environment; Olav Bardalen, Cluster Advisor in Region East in Innovation Norway; biomass entrepreneur Sandor Bartha; Sergei Faschevsky, senior consultant and coordinator of international projects at Norsk Energi; Program Director of EEA / Norway Grants in Innovation Norway Anne Lise Rognlidalen and International Coordinator Boglarka Vajda in Green Energy Innovative Biomass Cluster.