New opportunity for joint projects in Poland
Norsk Energi is an attractive partner for counterparts from Poland, which will apply for EEA grants available for energy, environmental and climate projects. We possess both recent project experience from this country and extensive professional expertise.
Norway's so-called EEA grants will be allocated to a number of energy, climate and environmental projects in Poland as part of the EEA programme "Environment, Energy and Climate Change". The projects that reduce greenhouse gas emissions are a priority and they have a total budget of approximately 130 million EUR. A call for project proposals was recently announced for companies and organizations from Poland and Norway.
First nine calls that have recently been published are related to:
·More efficient co-generation (CHP), municipal district heating systems and school buildings
·Reducing greenhouse gas emissions, green infrastructure development, awareness raising work at schools
·Environmental management, mapping and evaluation of ecosystem services
In addition, several announcements on small hydropower geothermal and bioenergy are coming soon, according to the Norwegian Energy Authority, NVE.
Norsk Energi, an over a hundred-year-old the Norwegian Association for Energy Users and Suppliers that promotes efficient, environmentally friendly and safe use of energy in the industry, district heating sector and construction. Norsk Energi has been a Norwegian expert partner on a few energy and environmental projects during the previous EEA programme period in Poland. We find our expertise and experience from Poland to be highly relevant to the new EEA programme "Environment, Energy and Climate Change" in Poland.
Counterparts from Poland looking for a knowledgeable Norwegian partner to apply EEA funding may contact us. Please send also brief information about your project ideas.
Contact:
Sergei Faschevsky (thermal energy and energy efficiency)
Idar Bergfjord (renewable energy)
Dag Borgnes (climate and environment)
Additional information:
Fact sheet on Norsk Energi and its areas of expertise
Presentation of Norsk Energi's environmental services
Fact sheet about our reference projects in Poland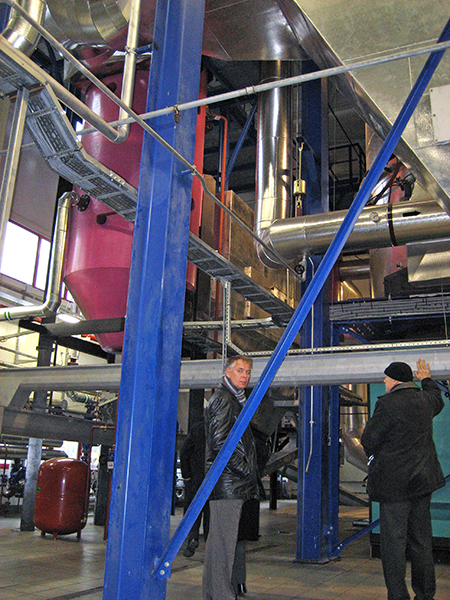 ite visit of Ostrow Heat and Power Plant, Wielkopolski Voivodship